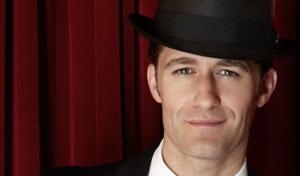 He may have entered your home as Mr. Schue on the hit TV series, "Glee," but Matthew Morrison — actor, dancer, singer-songwriter — said that his home is on the stage.
"I grew up on the stage, and it feels like what I was born to do," he said by phone from his home in New York. "I feel most alive; I feel like I'm my true, authentic self on stage, and I'm a happy person."
Morrison was in New York between trips to Amsterdam to work on the film "Tulip Fever," a costume drama starring Judy Dench, Zach Galifinakis and Christoph Waltz, and concert shows such as the one he'll be doing in Boone in July with the Greensboro Symphony at the Appalachian Summer Festival
His agent hustled him "someplace quiet" to talk while work was being done on the apartment that he shares with his fiancée, model Renee Puente.
Morrison, best known as Will Schuester in "Glee," had a successful career on Broadway before being cast as the high school Spanish teacher turned choir director in 2009. He received Emmy and Golden Globe nominations for the role.
Megan Stage works in the Office of Arts and Cultural Programs and Turchin Center for the Visual Arts at Appalachian State University, which produces Appalachian Summer Festival.
"The festival always tries to round out the season with the Broadway artist … between some of the country, folk and pop artists we bring," Stage said. "It's a great addition to the musical acts we host each summer. Matthew Morrison is a popular TV actor with his role on 'Glee,' but we have seen him perform on Broadway, his first love, and when we saw he was touring, we all agreed he'd be a perfect fit for the festival."
Morrison grew up in California and started performing in high school.
After studying musical theater, vocal performance and dance at the Tisch School of the Arts in New York, he dropped out to make his debut on Broadway in "Footloose," followed by a role in "The Rocky Horror Show."
But Morrison's breakout role was Link Larkin in the original Broadway cast of "Hairspray" in 2002. That role led to his being cast in the critically acclaimed "The Light in the Piazza"; he received a Tony Award nomination for the role of Fabrizio Nacarelli in 2005.
Ryan Murphy, the "Glee" creator, scouted Morrison and several other actors from Broadway shows because he was looking for actors who could understand the excitement of performing for a live audience, even though the TV show is shot on a soundstage without an audience.
"Glee" is a popular musical comedy-drama TV series that focuses on the fictitious William McKinley High School glee club, New Directions. The show choir competes while its members deal with relationships, sexuality, social issues and learning to become an effective team. The show lost some of its momentum when Cory Montieth, who played Finn, the popular quarterback, died of a drug overdose in 2013.
Shortly afterward, Murphy announced that the show's next season, its sixth, would be its last.
"Next year we're doing 13 episodes," Morrison said. "We're coming to our last season. I'm incredibly proud of the ride that it's taken us all on. It dealt with sensitive issues that adults and young people go through. I'm very proud to have been part of a show like that."
The creators and cast dealt with the sudden loss of Montieth by presenting a memorial episode, called "The Quarterback," and then put the show on a brief hiatus.
"He (Montieth) was a huge part of the show, and he really connected with a lot of people," Morrison said. "And, for me, watching him grow on the show was gratifying. He grew more than any other person on the show."
Morrison, who one critic described as a "joyful" live performer, said that performing for a big or small audience doesn't make much difference to him.
"At the end of the day, you're just doing the best you can do to give an honest performance," Morrison said. "The difference between playing to 2,000 people on stage or 5 million on TV is not really such a big deal.
"The biggest difference is the tone of it. On TV, you have to be a little bit smaller and more contained. You have to think that the audience can see your emotions more easily."
There's one other difference.
"Once you're exposed to that kind of audience, you are pretty much open game for anyone walking down the street to stop you and notice things," he said. "I'm very happy that my TV success happened when I was already 30.
"My fiancée and I are homebodies now. Besides being out there in the public eye, we live boring, domesticated lives: cooking, entertaining friends and enjoying our own company."
And he cooks. "You enjoy food more when you know the work that goes into it," he said.
At Appalachian Summer Festival, Morrison will be performing a combination of jazz standards and Broadway show tunes, including a seven-minute "West Side Story" medley.
He's bringing his own conductor, Chris Waldon, and his own piano player, Brad Ellis, also from "Glee."
"He (Ellis) is just as famous as I am," Morrison said. "He's the piano player on the show. It's great that we get to do this outside of our day job and travel the world doing these shows."
Walden did many of the musical arrangements on Morrison's two record albums — "Where It All Began" (2013), a Broadway-inspired album, and "Matthew Morrison" (2011), a pop record that includes duets with Sting and Elton John, and Morrison's single, "Summer Rain."
Morrison and Stage said that they hope his "Glee" fame will serve to draw younger people to hear the Greensboro Symphony.
"Between Broadway and Glee, he is relatable to all generations," Stage said. "We love bringing in the younger demographic to our shows … an artist to get young people in the door and excited to see a live performance. Matthew Morrison can do just that, but he will also appeal to our current patrons and festival audiences. This is one of those shows that will blend our audiences together which is always special to see."
Morrrison said, "I feel like sometimes orchestras draw an older crowd, but there's so much you can learn by going to these shows. A grandparent can bring their grandchild. I think I can bring in a younger audience. The whole evening for me is a whole lot of fun.
"These songs are timeless.I love seeing anybody sing their songs; everybody brings their own story to these songs we know and love."
He's done TV, movies and records, but Morrison said he still feels most at home on the stage.
"The stage is where I grew up. I did my first show when I was 19, and it's been seven years since I was on the (Broadway) stage," he said. "That's the impetus for me to do these concerts. I miss the energy of working with a live audience.
"I want to start performing for the people again."
Source: Journal Now