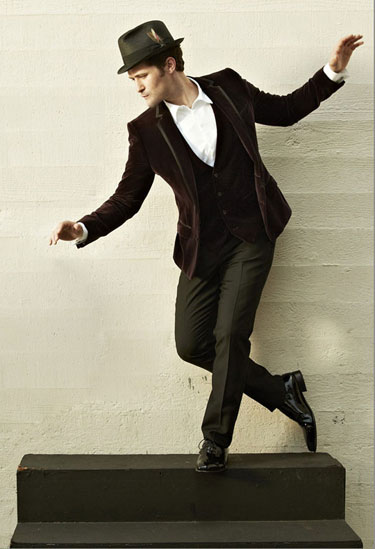 More than a few times in his life, Matthew Morrison has had gay friends choose him as the first person to come out to. "I'm open, a really good listener, a good friend," he reasons. "I think I'm a safe person to start with, and hopefully that journey just goes on and on for them. I'm really flattered I could be that person for several people."The actor, who stars as Will Schuester on Glee, adds, "I'm very happy to be a part of a world where two men and two women can actually get married in some places now. I'm excited to see what the future brings."Glee hasn't been afraid to tackle LGBT issues over the years and Morrison is keenly aware of the impact it's had on its young audience. "I think it did so much good in our world," he says. "It brought a lot of social issues to light
— being gay in high school, bullying — that we're faced with. I'm really proud of the way we've handled those situations."
Next Thursday, July 10, Morrison will bring years of Broadway and screen experience to a performance with the National Symphony Orchestra at Wolf Trap. "I'm the classic song and dance man," he says of his planned repertoire. "A lot of the old standards reinterpreted in my own way, and timeless classics I just love to sing." Tony Award-winner Laura Benanti, who recently sang with the Gay Men's Chorus of Washington, will appear alongside Morrison as a featured guest. "It gives me the opportunity to do something different," he enthused. "We'll sing a couple duets, and then she'll do some of her stuff."
He's also looking forward to working with NSO Pops conductor Steven Reineke again. "He's a trumpet player, so he especially gets the kind of music I'm trying to do, because my stuff — I guess you would say it swings a little bit more."
With Glee entering its final season, Emmy- and Tony-nominated Morrison — who starred on Broadway in the original casts of Hairspray and The Light in the Piazza – is looking forward to what the future will bring.
"I'm so lucky to live this life and to be an entertainer," he says. "It's something I've always wanted to do — and to do it at the kind of level I'm doing it, is something that I wish everyone could experience… I try to make every performance genuine and true. I'm very happy with my life, my family, my soon to be wife. It's all good in Morrison's neighborhood." – Randy Shulman
Matthew Morrison appears with the NSO at Wolf Trap on Thursday, July 10 at 8:15 p.m. Tickets are $22 to $75. For more info visit wolftrap.org or call 877-WOLFTRAP.