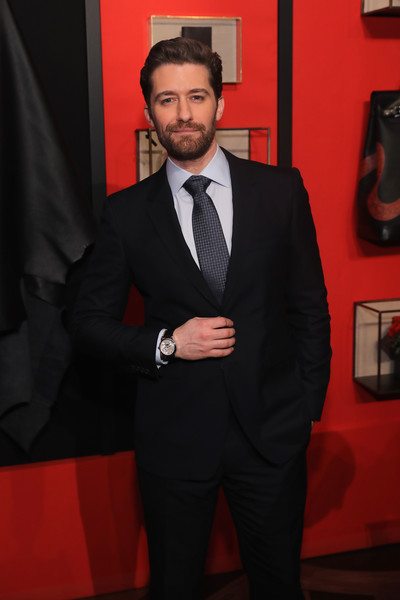 On July 7, 2016 The New York Pops return to their summer residency at Forest Hills Stadium, where they will be joined by special guests Matthew Morrison and Megan Hilty. We had the chance to speak to Mr. Morrison about his favorite summer music, why he loves the Broadway community, and the leading ladies he's dying to work with.
What's on your perennial summer playlist?
Good question, I guess all year round I like Michael Jackson, but he's particularly good for the summer. I like that island feel so I play a lot of Hawaiian music, and somebody who fits in that vibe even though he's more mainstream is Bruno Mars. I love his music for the summer.
What are you looking forward to the most about singing with The New York Pops in July? The temperature will surely be hot then.
Oh jeez, I hadn't even thought of that. Thanks for the warning. Actually I don't know much about the venue, I'm really excited! I'm good friends with Steven Reineke, who will be conducting that night, he raved about the place and said it was a great place for the concert. I'm also very excited to perform with Megan Hilty, she and I have been friends for a while but we've never had the chance to sing together before. This is going to be a very special night.
The 2015 summer concerts were fantastic! Sutton Foster brought her dog, and Pink Martini did a massive conga line, so you guys will have to raise the bar this year!
Oh my gosh, OK good to know.
You were on Glee so did you ever have to go to summer school in real life? Or what would you usually do during the summer?
Actually over the summers I went to Hawaii, I was a backup singer for Don Ho who was a very popular Hawaiian singer back in the day. He's passed now, but every summer I would go there and sing with him, it was my first professional job so no, I never went to summer school.
With Will Schuester and J.M. Barrie you've become a master at playing mentors. Did you have any teachers or people you looked up to a lot, that you drew from to play these characters?
Actually I did have a mentor, his name is Dr. Ralph Opacic, he's the guy who kinda created the high school I went to. When I went there it was a performing arts after school program, but it's now become its own stand alone charter high school, and it's one of the best performing arts schools in the nation in my opinion. It's just amazing what his vision and achievements are, the curriculum he brings to his students and the space he gives them to create. It's not just performing arts either, there's visual arts, a culinary school, instrumental arts, production design. It's become such an amazing school and he and I are in the process of coming out with our brand of schools, using that school as the model. In the next couple of years we hope to come up with new high schools. I'm really excited about that.
After doing television for over six years, did you ever worry that once you were a television actor you would stay away from the stage for too long? Was returning to Broadway easy for that matter?
Theatre is my first love and there were definitely things that came right back, but the hardest part was doing eight shows a week. It's always been the hardest part, but I was out of practice and my stamina wasn't really there. That was something I had to get back into, so I had to get back into running, running while I was singing, and just getting that groove. Finding Neverland was really grueling for me, I really never left the stage at all for the whole show. I sang 14 songs per show, so it was a marathon doing that show every day, but I couldn't have asked for a better show to return.
You've worked with some of the greatest leading ladies in theatre. Any leading lady you haven't worked with that you'd like to play opposite?
I love the classic ladies, I would love to do something with Helen Mirren, Angela Lansbury, Chita Rivera. I love those classic, old broads, who have so much charisma and a depth of knowledge. Their craftsmanship has been honed for so many years, I love working with older people because I learn the most from them.
With Helen Mirren you'd have to be in a non-musical show then, is that something you're interested in tackling as well?
I'm dying to do a play. I've done one play on Broadway and it was a great experience. For me technically it's a little easier of a job because you don't have to prepare your singing voice everyday.
Maybe you and Dame Helen can do Sweet Bird of Youth or some Tennessee Williams.
Oh, I like that suggestion. It's a good one.
Hairspray is getting the live TV treatment in the fall. You starred in the Broadway production, are you excited about this method of introducing national audiences to theatre?
It is exciting, it's so different from live theatre though. My hats go off to these people who come up with the formats and how they actually pull off a live musical on television. It's incredible. I think Greasechanged the game, they're honing it more. The first couple were interesting, but I feel now they're really making an artform out of this. I can't think of a better musical than Hairspray to get this treatment, because inside of itself it's set in a TV show, so it will be pretty cool to go in and out of the actual TV show, it's going to lend itself quite well to being a television event.
The one thing I'm really, really excited about – having been in the Broadway show – is that Harvey Fierstein is going to be doing Edna. There's no else who will ever do the role like he did it. He created it and it was perfection. He won all the awards and accolades for it, his performance was one of the best performances I've ever seen, so I'm happy that people who haven't seen the show will get to see that performance.
You mentioned in an interview that you spent time hanging out with your Hairspray co-star Marissa Winokur, and you came to see Victoria Clark and Kelli O'Hara in Dido and Aeneasshortly after The Light in the Piazza reunion. How important is fraternity and following the work of your peers in the industry?
That's why I love the Broadway community more than any other community, it is such a family. When you do a show with someone, it's like going to war. You are in the trenches, you go through all the process together and then depend on each other every single night when the show is happening. Those bonds are really strong. It's funny you mentioned these ladies specifically, because I've been having a bunch of shows at 54 Below and Marissa and Kelli actually came to the show, Kelli went onstage and sang "Somewhere Over the Rainbow" with me. It's great to have friends who support you, and it's even cooler when your friends are as talented as they are, so when they're around it makes me want to be an even stronger performer.
What are your favorite Sondheim songs and your dream role in one of his shows?
I did "Send in the Clowns" for a while in my shows, and I absolutely love that song. It's perfection, one of the most beautiful songs ever written. To be a little different than probably everyone else you're talking to, my favorite Sondheim show is actually Assassins, I love the darkness of it, so my dream role would be John Wilkes Booth. I love that show so much, it's a tough one to do too, it's quirky, really dark, the subject matter is interesting. It's one of my favorite shows in general, not just Sondheim.
Hey, and if you like "Send in the Clowns" so much, maybe you can do A Little Night Music with Chita or Angela…
…or Helen!
For tickets to The New York Pops with Matthew Morrison and Megan Hilty click here.