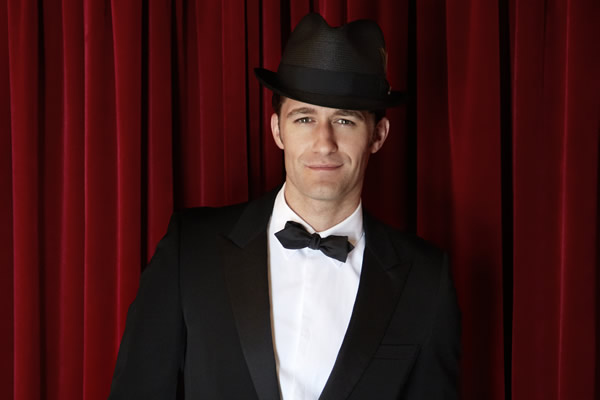 Although he's regularly seen on television each week as "Glee's" teacher-with-a-heart-of-gold Will Schuester, Matthew Morrison admits his soul belongs to the stage.
"I've been on stage since I was 10 years old, doing show after show, and I never knew how much I wanted to be on stage until I was without it," Morrison says. "When I got into 'Glee' and started doing film and TV and I didn't have that interaction with a live audience, I realized how much I truly missed it and it's really where my heart is."
To appease his thirst for the stage, the Broadway vet has spent the past nine months performing with different symphony orchestras all over the world, and is headed to play the Kennedy Center with the National Symphony Orchestra tonight and Saturday night, in "NSO Pops: An Evening with Matthew Morrison" under the baton of conductor Steven Reineke.
"I've done Broadway my whole career and then the last five years I've been on a television show, so this is my chance to get back on stage," Morrison says. "I am looking forward to this the most because I have such a history with the Kennedy Center, after doing a couple of Kennedy Center Honors' performances. Having the chance to play with the NSO is such a great thing and I'm really looking forward to the shows coming up."
The Tony-nominated singer will be singing standards such as "The Lady is a Tramp," "As Long as She Needs Me" and some Broadway tunes that were included on his recent album, "Where it All Began." Morrison also plans to bust out a holiday tune or two from "Classic Christmas," a six-track EP he released backed by the same 60-piece orchestra that accompanied him on his other album.
"When we were finishing up 'Where it All Began,' we were done ahead of schedule and we were in this creative, great space so we just decided to do a couple of Christmas songs," he says. "I'm really proud of it and excited to join the ranks of great Christmas albums out there. Growing up, I listened to Bing Crosby and Frank Sinatra and I wanted that same classic feel. I always feel like I was born in the wrong era."
Morrison knew early in life that he wanted to perform and studied musical theater at Tisch School of The Arts in New York, landing his first Broadway show, "Footloose," at age 19. Other shows followed, including "The Rocky Horror Picture Show," "Hairspray" and his Tony-nominated role of Fabrizio Naccarelli in the critically acclaimed "The Light In The Piazza." It's the success he always dreamed of.
"It's a combination of an incredible amount of dedication that you put into your craft, with a lot of luck involved as well," he says. "I feel like I worked hard from a very young age and knew what I wanted. I did workshops and other shows, until I got my big break with 'Hairspray,' which was kind of a fluke. I was in the ensemble but the guy playing the lead landed a movie, so they bumped me up to Link. I've been very lucky to have the breaks I have had in my career."
Once "Glee" came along, it completely changed the ballgame for him, opening him up to a more international audience and allowing him to spread his wings and see what opportunities come.
He's proud of the work he's done on the show and the message that has resonated with so many — especially those in the LGBT community. "Through the voice of Kurt, I think we saw that first voice of a young gay person and the experiences that he had to go through in high school. There's a lot of people telling these kids it gets better, but when you are in it, you don't really see that sometimes," says Morrison, who's straight. "I feel it was great for people to actually see him go through the stuff and actually see he went through the trouble and it did get better. I think that character was such an inspiration to a lot of the younger gay audience going through a similar experience." Morrison believes Ryan Murphy and the cast helped make history with the show and its positive vibe will live on for years through DVDs and in syndication. "At the end of the day, art and music are the great things that can bring you out of getting bullied. Putting your time and energy into something that is very positive," he says. "It has been really groundbreaking and I think a lot of people have had their lives changed by this show." When "Glee" finally ends after the 2014-15 season, Morrison has no doubts about what he'll do next: "I'm going to go back to the stage," he says. "It's been kind of calling me for a while and I'm looking forward to jumping back on."